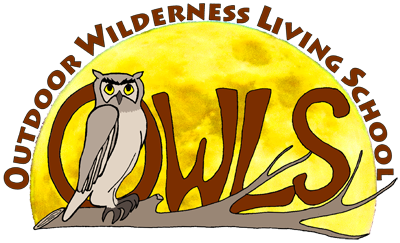 PO Box 697 - Pony, MT 59747 - 406-685-3222
Stone Age Living Skills Programs for Schools
Field Trips & Class Information
"Experiential learning for the whole person."
"On our trip we had an exciting time. We adventured through the woods and open fields, laughing, smiling, enjoying ourselves and others. When we finally could settle down, we really looked for the beauty of nature... I could feel the wind and watch as it made the grass and trees dance together. I could feel the rain as though it was washing down the land around me. I felt like I was part of something grand." --Amanda B.
Elementary School: Earth Skills Classes
Learning should be fun, and there is no shortage of that when we turn young students loose in the great outdoors. We prefer to have our classes in the field for an entire school day, while we cover a range of complimentary active and sedentary topics with age-appropriate material such as animal stalking games, fire-safety, and story-telling for younger grades, or wild-clay pottery, flint and steel fire-starting, and botany for the older grades.

Students get hands-on history and science lessons as they learn the basic living skills of our native and pioneer ancestors for building shelters, starting fires without matches, making cordage from natural fibers, and sewing pouches or making containers to hold things, as well as learning about useful plants and how to stalk and observe wildlife. Classes are held at the nearest suitable farm, ranch or public property where we have permission to teach.
Junior High: Overnight Camping Trips
The overnight camping trip with junior high students has a way of bringing kids together in an inclusive, meaningful, and memorable way. Some students who have never been camping before are initially afraid to go out in the woods and get dirty, afraid to sleep in a shelter that might have bugs in it, or reluctant to participate in activities with the other kids. But it doesn't take long for the fun of the learning experience to become completely infectious among everyone. Even after camping in the worst possible weather, our participants beg us for the chance to go out again!

Students learn to start fires without matches by "rubbing sticks together" using the bow and drill. They build or repair the shelters we sleep in. They learn to cook great meals without modern dishes or utensils. They learn more advanced botany and ecology concepts, engaging in science, history and writing throughout the two-day experience. Junior high camping trips are held on a private ranch near Willow Creek in shelters built and tested by previous classes.

Read about the 2011 Junior High Camping Trip in the Bozeman Daily Chronicle.
"I have pondered the simple construction of the mousehut... sticks, grass, and bark piled on each other, but yet it is one of the warmest shelters I have ever encountered. How interesting that a mouse, a hundred times smaller than myself, can survive performing the same tasks we did to make the shelter. Also, how smart this creature must be to come up with this simple, but yet, complex design. In my opinion, you must experience it to fully understand what it is all about... if you go out on a limb and do this, your eyes will be opened up to something special." --John B.
Read more comments from students from the Junior High Camping Trip.
High School: Adventure Education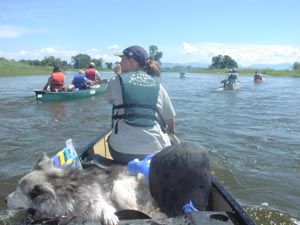 The epic journey of Lewis and Clark helped shape the destiny of our country for the last 200 years. Today, every student should have their own epic journey to shape their own personal destinies. Fifty years from now they won't be spinning yarns about a movie they watched as teenagers, or how they wandered around the mall for hours on end. But they might reminisce about how they spent five days canoeing the Jefferson River following the trail of Lewis and Clark. For many students, this can be the adventure of a lifetime and an experience that can spark their confidence to pursue all of their great dreams.

Academically, students learn lifelong skills for responsible outdoor recreation. They get greater immersion into natural science and ecology, the history of Lewis and Clark on the Jefferson River, and they have an opportunity for uniquely introspective writing projects and poetry. Trips are scheduled in the spring before water levels rise, or in the fall. The Jefferson River is surrounded by ranches and roads, yet still retains it's historical feel.
"Finding and identifying edible mushrooms, digging up cattails and their roots, hunting wild game, and collecting berries and wild plants are just some of the ways you can collect food to get the nutrition you need. This aspect was meaningful to me because it truly showed me what all of our ancestors actually did to find food to survive. It give me a true appreciation for the lifestyle they adapted to." --Kristen W.
Looking for a unique educational experience for your school?
Please Contact Us to explore the possibilities. (Only available in Montana.)

Return to the Primitive Living Skills Home Page