What's New on our Websites?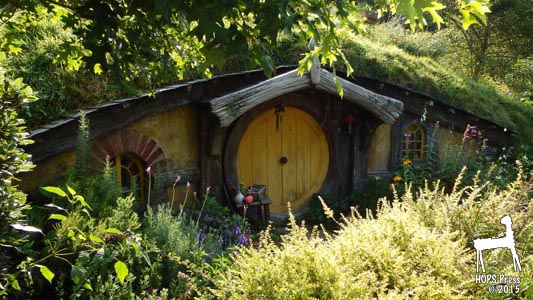 Spring 2015
New Articles!
Botanizing New Zealand: Plant Identification Down Under
Posted: Please Trespass: The Green Post Campaign to Reclaim Everyman's Right to Roam
Hobbit Architecture: Building with Soul
---
Winter 2014-2015
Updated and Expanded
DirtCheapBuilder.com Check out the new pages and content.

---
Fall 2014
Updated and Expanded
BraintanBuckskin.com Check out the new pages and fashion gallery!
---
---
Spring 2014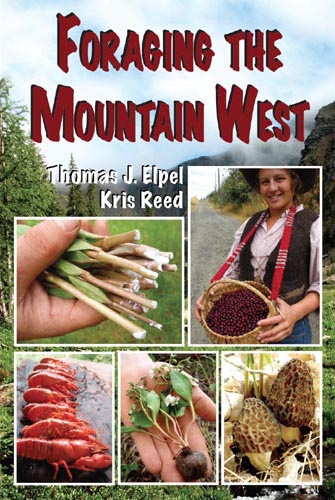 Foraging the Mountain West
Gourmet Edible Plants, Mushrooms, and Meat
By Thomas J. Elpel and Kris Reed
There's food in them thar hills! There is also food in the valleys, meadows, swamps, and all around town, too... maybe even in your own backyard. Foraging the Mountain West is a guide to harvesting and celebrating nature's abundance. Reach out and explore the world with your taste buds. Discover new delights you will never find at the store. Connect with nature on a deeper level by meeting, greeting, and eating the plants, fungi, and creatures that share the neighborhood. Become a little more self-sufficient, and a lot more aware.

Foraging the Mountain West is a hands-on manual for identifying, harvesting, and preparing real food. It is written for the backpacker who would rather bring more knowledge and fewer provisions into the wilderness. It is intended for the happy homemaker who wants to eat well and spend less. It is ideal for the creative chef who wants to explore new ingredients and impress diners with novel dishes. Read More...
Outdoor Skills Special Discount
---
Winter 2012 - 2013
What's New on the www.Elpel.info site?
Too Many Jobs? What if the path to prosperity called for less work and fewer jobs?
Article by Thomas J. Elpel
---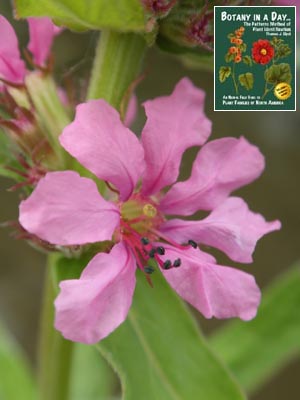 Fall 2012
What's New on the Wildflowers and Weeds Site?
50 New Wildflower Photos!
Plant Families Wildflower Gallery
Are you still thumbing through hundreds of pictures to identify wild flowers? That's the way I started learning plants, but now there is a much easier way! Plants that are related to each other have similar characteristics for identification. Botanists have simply looked for patterns in plants and created groups called "families" according to those patterns. In the northern latitudes where there are hard freezes during winter, there are only about 100 broad patterns representing tens of thousands of plant species. Once you identify the family your wild flower belongs to then you can still use your color picture book to identify the species, but now you only have to look through a few pictures to find a match, not hundreds. Read More...
What's New at Green University® LLC?
Break Free from the Machine! Article by Thomas J. Elpel.
---
Summer 2012
What's New in Sustainable Living Skills?
Castle Construction
Building our Little Castle / Guest House
by Thomas J. Elpel, Author of Living Homes
It all started with the satellite dish. It was one of those big, old-style, clunky dishes from the early hey-day of satellite television. It was handed off to me when its owners upgraded to a new dish. They somehow imagined they were doing me a favor, that my life would be better if I installed the ugly thing in the yard and had access to five hundred channels of nothing. But we have three channels via the antenna, and that is more than enough of nothing already. On the other hand, I didn't want to just throw the satellite dish away. I don't like throwing anything away. And I thought maybe I could make something interesting out of it someday, such as a solar cooker or maybe even the roof of a playhouse or something. So the satellite dish just sat behind the house for fifteen to twenty years. Then we had this idea to turn it into a castle. Read More...
---
Spring 2012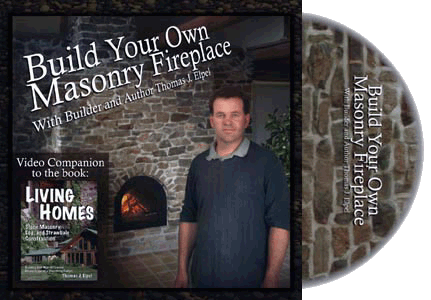 Build Your Own Masonry Fireplace DVD
With Builder and Author Thomas J. Elpel
Video Companion to
Living Homes: Stone Masonry, Log, and Strawbale Construction
Build an authentic masonry fireplace with the efficiency of a masonry stove! The baffle system in this fireplace extracts heat from the exhaust, warming up the thermal mass of brick and rock. The masonry fireplace can radiate heat for three days after the fire is out!

In this instructional video, Thomas J. Elpel demonstrates the step-by-step process of building a masonry fireplace, starting from the foundation and ending with the chimney. Elpel shows how to lay up the brickwork for the core of the fireplace, how to build the arch, and how to build the baffle system. With the brickwork complete, Elpel demonstrates freehand stone masonry, using natural rock to lay up the stonework around the brick core. DVD. 2012. Read More...
What's New in Primitive Living Skills?
Tom's Camping Journal: -Carp Hunting the Upper Missouri
---
Fall 2011
What's New in Primitive Living Skills?
-Grass Ropes: The Human Rope-Making Machine
Be sure to subscribe to Tom's YouTube Channel:
---
What's New on our Websites?
Summer 2011
What's New in Sustainable Living Skills?
Check out this House of Stone and Straw
Built by Jordan and Amy Lentz, using Tom's book Living Homes.
"This is the story of our house and farm. Jordan and I designed the house, and Jordan (with the help of family and friends) built it from the ground up. It is a "green" house, which means that, wherever possible, the materials we used were natural, local and safe for the environment. [Read More...]
---
What's New on all our Websites?
Spring 2011
What's New on Wildflowers-and-Weeds.com?
Updated and Expanded!
Plant Families Gallery Now with 750 wildflower photos!
Resources to help identify your wildflowers.
What's New in Primitive Living Skills?
Two Articles from local newspapers:
-Outdoor Classroom
-Working with Kids
---
Winter 2010 - 2011
What's New from Thomas J. Elpel?

We now have an on-line video clip from Volume 4 in
The Art of Nothing Wilderness Survival Video Series:
Canoe Camping - on a song and a paddle

Also be sure to watch:
Wilderness Survival with Lynx Vilden, Part 1

And: Wilderness Survival with Lynx Vilden, Part 2