Four Seasons Prehistoric Projects
-We strive to "live" in the wilderness, rather than "survive" it to get back to civilization.-
| | |
| --- | --- |
| Wilderness Survival with Lynx Vilden, Part 1 | Wilderness Survival with Lynx Vilden, Part 2 |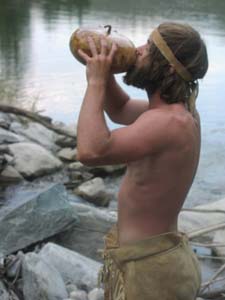 Lynx Vilden of Four Seasons Prehistoric Projects guides her students through a crash course in Stone Age living. Through several months of classes and prep work, students learn a broad range of wilderness survival and living skills. They tan hides and make their own clothes, felt their own blankets from raw wool, manufacture burden baskets, and make gourd canteens and containers and clay cooking pots. They make their own primitive fishing, trapping, and hunting gear, harvest wild edible plants and process wild meat, and they learn primitive methods of fire-starting.

When the classes are all done, and the students have created a full set of Stone Age gear, then they are invited (along with anyone else who is equally qualified), to participate in a free, extended Stone Age Living Project - spending weeks or months living the way our ancestors lived. Lynx is presently gathering students for her 2011 programs. To learn more, please write to Lynx Vilden.
Read Thomas J. Elpel's Article:
Stone Age Immersion
with Lynx Vilden's Four Season's Prehistoric Projects




---
PAST PROJECTS: 2010
YouTube Slideshows by Dan Westall
Music by Mariee Sioux Wild Eyes from the album Faces in the Rocks
Six people set out into the wilderness to live completely Stone Age, apart from a camera and diary. We prepared for four months ahead of time, making all our own clothes, shoes, stone and bone tools, pottery and hunting and foraging, too. This is a photo journal of our wilderness experience.
| | |
| --- | --- |
| 2010 Stone Age Living Project, Part 1 | 2010 Stone Age Living Project, Part 2 |
---
PAST PROJECTS: 2008 - 2009 Classes
November 16 - 22, 2008 : Basic Skills Intensive - In depth firemaking, stone tools, cordage and glues, primitive cooking, shelters, animal processing - Come throw yourself into it. $550 w/meals and camping, $400 without meals ;amp camping.

December 7-13, 2008 : Winter Skills - the North Cascades in winter are a magical place if you know how to be there. Winter travel and safety, shelter, clothing, fire, food, water. $550 including meals.

Mar 29 - April 5 2009: Hide Working Intensive - Brain tanning; wet scrape, dry scrape, bark tanning, and fur tanning methods, rawhide preparation, modern and primitive tools. Students prepare and take home one braintanned hide and one rawhide. $600 with meals and accommodations. $500 without meals and accommodations. If you are interested in applying for the 2009 Stone Age Project and classes and have not tanned any hides yet, this class is a must!

April 13 - 19, 2009: Basic Skills Intensive -Friction fire making, maintaining and carrying fire, cordages and glues, primitive cooking, burn bowls and spoons, animal processing, shelter building, stone and bone working. Items produced in cordage class include: fire kit, 5'+ cordage, pitch glue stick, hide glue, burn bowl and/or spoon, bone awl, and stone blades. If you are interested in applying for the 2009 Stone Age Project and do not yet have a solid grasp of the above skills yet, this class is a must.

April 27 - May 3, 2009: Wild Edible Plants Intensive - Learn to identify, sustainably harvest, cook, eat, and preservefor future use the wild plants of the mountain Northwest. Medicinal plant uses and preparations are also covered. Items produced in this class include: 1lb plant food, wound healing salve, digging stick. If you are interested in applying for the 2009 Stone Age Project and have a limited knowledgeof Northwest wild plant foods, this class is a must.

10% discount for 1 month advance registration with $100 non-refundable deposit.

The 2009 Stone Age Project begins May 25th and runs through August.
The objectives for the project are:
Nurturing an apprciation of the Earth as a living organism;
Re-kindling and applying the practical skills based on ancient knowledge;
Experiencing the inter-dependence necessary in community living.
$1,500. Please inquire for additional information.
- PAST PROJECTS: 2006 -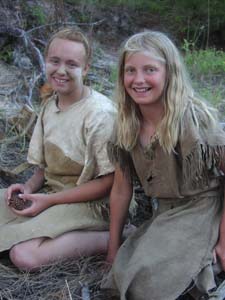 Join us in the beautiful Sangre de Cristo mountains of New Mexico for intensive hands on wilderness living skills training. Between the open alpine peaks and aspen/conifer forest of the Pecos wilderness and the upper Sonoran desert of the Rio Grande valley lies a wealth of ecological diversity and a rich cultural history to be discovered. Learn to harvest and transform the gifts of nature for everyday needs such as tools, fire, shelter, food.... in a conscientious and sustainable manner as the ancients did.

Level I - BASIC SKILLS: Firemaking; bindings; lithic, bone and wood tools; shelter; wild food introduction. March 5 - 14. April 9 - 18. COST: $400.

Level II - ADVANCED SKILLS: Tanning and clothes making; containers; textiles. Learn different tanning methods including brain tanning, bark tanning and rawhide preparation. Turn these hides into clothing, moccasins and sandals. Felt a warm soft blanket from raw sheeps wool. May 1 - 30. COST: $1000

Level II - ADVANCED SKILLS: Containers and wild foods. Learn various styles of containers including woven baskets, ceramics, burn bowls and rawhide containers. Wild food gathering, preparation, cooking and preservation. June 1 - 30. COST: $1000

Level III - APPLIED ADVANCED SKILLS: Prehistoric Project 2006- Horse packing adventure. August 1 - 30, 2006

Each year a different theme is addressed:
2006 - Horse packing adventure
2005 - Nomad summer
2004 - The Kootenai River Project II, Water transportation
2003 - The Yaak River Hunter Gatherer project
2001 - The Kootenai River Project , a stone age living experiment

These projects are for those students who have already mastered skill levels I and II. COST: $1000.
---
- PAST PROJECTS: 2005 -
Four Seasons Prehistoric Projects
Presents: Nomad Summer
Choose individual workshops, week-long classes and outings, or come and stay for three months of intensive primitive skills training covering wild edible and medicinal plants, large animal processing, structure building, bow and arrow making, hunting and trapping methods, hide tanning, clothing and moccasin making, boat building, stone and bone tools, horse packing, basketry and containers. The full experience includes three 7-day wilderness trips. All classes combine the use of modern and prehistoric methods and tools. All trips focus on the pre iron age technologies, though some exceptions may apply. The full summer schedule includes: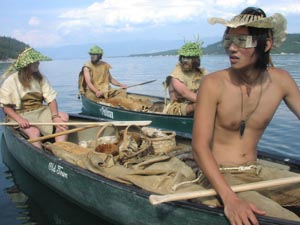 June 1 - 7: Canoe building, a traditional style canoe of skin or bark.
June 10 - 12: Gathering spring wild edibles, harvesting processing, cooking and preservation.
June 17 - 19: Fishing with spears, plus primitive hook and line.
June 23 - 29: Canoe trip. We'll gather wild food, fish, trap, build shelters, etc.
July 1 - 7: Animal processing. Jerky, pemmican, rawhide, bone-working.
July 10 - 12: Braintanning deerhides.
July 15 - 17: Basket making. Pack baskets and gathering baskets.
July 22 - 24: Moccasin making, using soft deer hides.
August 2 - 8: Bow and arrow making.
August 12 - 14: Gathering summer wild edibles and utilitarian plants, plus cattail processing, mats and containers.
August 19 - 21: Primitive hunting and trapping.
August 25 - 31: Horse packing trip. Build a shelter, and hunt, trap, and gather berries.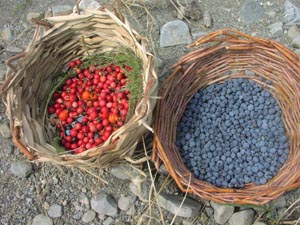 The Long Dark Nights Winter 2005.
Spend a month in the Northern forests learning wintertime skills. Start out in a cozy cabin learning how to tan skins and furs for clothing, make warm felted boots, hitch up the horses for a sleigh ride, make fat lamps and torches and while away the long evenings with wild food dinners, stories, songs and dandelion wine.... Then venture out on skis or snowshoes to camp in primitive shelters, follow tracks, build fires and a steam bath lodge and call back the sun on the longest night of the year. Limit: 4 people.
Mountain Horse Packing Trip Fall 2005. Spring 2006.
This four week adventure includes two weeks at a base camp during which you may tan a hide, make a pack, learn felting and get to know the horses. The next two weeks will be spent packing out into the Rocky Mountains. Build and Live in primitive shelters, fish and trap, forage wild edible and medicinal plants, use stone, bone and wooden tools, craft containers, make fire by friction and sleep in the comfort of a warm buffalo robe. Limit: 3 people.
Stone Age Horse Packing Experiment Fall 2006.
Walk, pack, and ride from the Montana/B.C. border to the Rabbitstick Rendezvous in southeastern Idaho. Participants must have previous experience with horses and primitive technologies. Please write for an application and more details.
---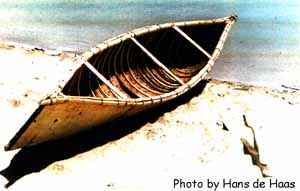 - PAST PROJECTS: 2004 -
Four Seasons Prehistoric Projects
Presents: Watercraft Transportation
A Stone Age Living Experiment in Western Montana
Have you ever wondered if you could not only survive, but thrive in the wilderness using only the abundance that nature provides? Some of us learned these ways as children from our parents and grandparents. For others, the skills were lost and forgotten far back in our ancestry.


In the summer of 2001, the Kootenai River Project began the Stone Age Living Series, with a two-month long berry camp. Fall of 2003 saw a traditional bow hunting experiment with the Hunter-Gatherer Project, which was documented in the Bulletin of Primitive Technology. In 2004 we did the Watercraft Transporation Project. All projects have been based on pre-iron age technologies. Classes included: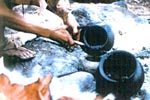 April 30 - May 2 --Introduction, fire making and bindcraft.
May 7 - 9 -- Tool making; stone, bone, and woodworking.
May 14 -16 -- Containers; baskets, rawhide and wooden containers.
May 28 - 38 -- Hide tanning; wet and dry scrape methods of brain tanning.
June 4 - 6 -- Clothing and footwear; garments, moccasins, and sandal making.
June 11 -13 -- Wild plant foods and medicines; harvesting, preparation, cooking and storage.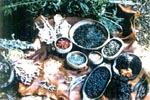 June 18 - 20 -- Fishing technique; hook and line, spears, nets, weir and trap, hand fishing.
July 17 - 23 -- Boat building I; pirogue plank boat and paddles.
July 30 -- Felt blankets; hand-felting sheep wool.
August 7 -13 --Boat Building II; traditional style canoe.
August 15 - 30 -- Watercraft transportation project

Apprentices participating in the project were required to manufacture the following items: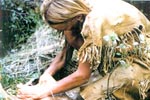 Clothing--buckskin dress or shirt and loin cloth (requires a minimum of 2 tanned deerskins).
Footwear--moccasins and rawhide sandals.
Containers--gathering basket, rawhide storage container, and wooden bowl.
Tool kit--stone knife, bone awl, fishing line and tackle, pitch glue, fire kit.
Foods--5 lbs. dry local wild harvested foods.
Paddle
Bedding--may include blankets and mats from plant material or hides fur or felt.
Boats included hand-crafted and modern non-motorized vessels.
---
INSTUCTOR PROFILE OF LYNX VILDEN
"I grew up in Europe where I experienced a varied youth including phases as a punkrocker, performance artist and musician. I also spent time amongst the Sami reindeer herders of Northern Sweden. My life changed radically on emergence from my first sweat lodge ceremony in 1989 with the realisation of the calling back to the Earth, learning, sharing and teaching the old ways. This has been my lifestyle and my passion for the last 16 years while I have lived in the Rocky mountain states from Montana to New Mexico.
Please Note: Lynx lives in the mountains in a handmade yurt far from phones, cars and electricity, she doesn't get to town very often so responses may take up to a week or two. Your patience is appreciated!
The Four Seasons Prehistoric Projects website is maintained by Thomas J. Elpel.
Please visit our Web World Portal.