Virgin River - Lake Mead Canoe Trip
March 10-17, 2006
By Thomas J. Elpel, Kris Reed, and Donny Elpel
I don't normally spring for expensive meals, but I thought the $74 carp was worth every penny of it. My bigger concern was what someone might think if they walked into the restroom while I was washing the blood off my hands and knife. No, I didn't kill anyone, but it sure looked that way.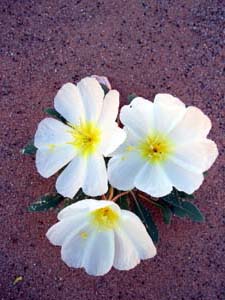 Day One: Car Troubles
The "Service Engine" light lit up on the dashboard for some unknown reason as we rolled down the interstate with two canoes strapped to the top of the van. Jeanne took the off ramp into Pocatello, Idaho and stopped at the bottom. A great billow of smoke poured out from beneath the van. Jeff and Sholei pulled up behind us, and we all hopped out to investigate the problem. Hot transmission fluid poured out like a faucet, vaporizing the water in the street. We pushed the van into a nearby parking lot and scrambled to come up with a plan.
Not many repair shops were open on a Saturday in Pocatello, and by all indications, we would likely need a new transmission. This was not exactly how I wanted to start the trip! It's kind of funny, really, because I often have a bit of anxiety about car repairs when headed out on a road trip. After the car breaks down and gets repaired, the anxiety goes away, and I'm completely relaxed about the drive after that.
After a number of calls, we finally found a place that would take a look at the van. We called AAA for a tow, and I stayed with the van, while Donny, Kris, and everyone else toured Pocatello in Jeff's car.
Kris wrote: Tom spent the next several hours at the mechanic while the rest of us dined at Elmer's. Donny indulged himself in German pancakes the size of an elephant footprint.
The mechanic worked on the van for two hours, but never found the leak--not even a drop. The rational explanation is that the transmission fluid was so gunked up that it must have plugged a valve or a hose, built up pressure, then forced through a seal, which closed back up when the pressure was released. Basically, I paid the garage $115.00 to pour in six quarts of transmission fluid, and I was delighted to pay it. It was a whole lot cheaper than a new transmission.
However, I prefer a less rational explanation. I wonder if I somehow bring it on myself, with my anxiety. Yes, the car broke down, but I also felt in my heart that we were going to go forward with this trip. The van was kind enough to break down in a reasonably convenient spot, and also healed itself so we could continue our journey. I promised to give it a long-over due transmission flush when we returned home. Fortunately, we had no more troubles after that, and in spite of the delay, we still reached our destination in Arizona's Virgin River Gorge at a reasonable hour.
Kris: We rolled out our sleeping bags in a field of rocks and I become nervous about the assumed-to-be uncomfortable night ahead of me. But when I got in my bag and looked up at the sky, the stars blanketed me and I was comforted. I fell asleep, refreshed and awaiting another sunrise.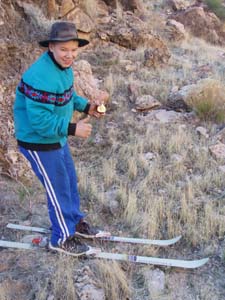 Day Two: Enough Water to Float
Donny wrote: I woke up and found a pair of skis, and Dad took my picture while I was skiing in the desert. We were only twenty miles from the input point at a town called Mesquite.
There isn't much information available about floating the lower Virgin River-not in floater's guides, nor on the internet. Some people float the upper Virgin River and kayakers paddle the whitewater in the gorge along the interstate. We talked to recreation advisors at the Lake Mead National Recreation Area and at the Bureau of Land Management. They suggested that the water levels were best for floating in April and May, but otherwise they knew nothing about the lower Virgin River. It almost seemed as if nobody had ever floated it before. Looking at topographic maps on the internet, it appeared that at least it was open country and major waterfalls seemed unlikely. We decided to simply look at the river and decide. If there was enough water to float then we would take the river down to Lake Mead. If not, then we would skip the river and spend the whole week at the lake.
There was no formal boat launch in Mesquite, Nevada. We got directions from a guy living under the bridge. He pointed us down a road through piles of trash, instructed us to turn at the burned out car, and we could drive right to the river bank.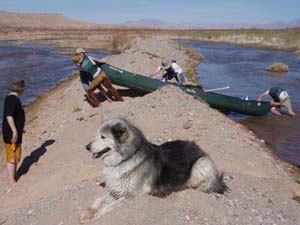 Jeff looked at the water level and had his doubts. He did a test float to make sure there was enough water for our loaded canoes. There was, but just barely. Any sane group of floaters would have waited for more water. But from my perspective, this might be the only chance of my lifetime to see the Virgin River. Water or not, I wanted to float it. We floated it.
Well kind of. We floated for awhile, hopping out sometimes to drag the canoes through shallow sections. At one point, part of the river split off into a separate, and ultimately man-made channel, which eventually required pushing the canoes up over the bank to get back to the river. Towards the end of the day we were doing less floating and more dragging.
Jeff wrote: The hard physical labor of dragging and pushing the canoes was a relief. I had been going through a very difficult time back in the 'real world' with lots of anxiety, worry, and stomach issues. Within five minutes on the river, a big smile erupted on my face, and my anxiety quickly melted away. My physical symptoms disappeared within minutes. I was very happy, regardless of floating or dragging. I guess that nature does that to me. It relaxes me and lets my worries melt away. The perfect weather and great company did not hurt either.
We were thoroughly tired by the time we reached the Riverside Bridge, about ten miles downstream. But the river was blocked by a make-shift bridge in use by construction crews while building a new bridge. We had to portage. Back on the river, we paddled (or dragged) the canoes another couple miles and camped at the mouth of a gully just as the sun sank below the horizon.
Donny: When we finally got to camp we were so worn out that we didn't want the day to end because we knew another one, probably just like it, would come tomorrow. But we were overcome by exhaustion, and we fell asleep.

Day Three: Dragging Canoes Down the Virgin River
Kris: I woke up still dreading the day ahead, when Tom pointed out some wildflowers--the first I have seen in ages--and my mood was lifted. I spent my time keying out the plant families until we set off.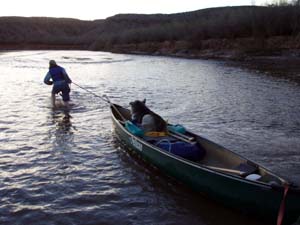 My high spirits started to melt away with each step as we dragged the canoes down the river. But a lunch of dried tropical fruit in the shade made me just as happy as when I was with the evening primrose that morning. I ate a lot more than I wanted--trying to lighten the load in the canoes.
Back in the canoes, we hopped in and out of them, often floating for only a few seconds before dragging for a few minutes--but I could not get too depressed in the beautiful landscape we were in. It seemed as though we went through the day without talking, until near evening.
I actually enjoyed the physical labor of walking down the river. I was thankful that the weather and the water were warm, and the river bottom was sandy. We didn't need shoes; we just hiked down the river, splashing along in bare feet. Our canoes seemed like big, floating backpacks, and most of the time they followed us without much effort, but there were shallow spots that required some serious muscle to navigate.We hopped in for a ride whenever there was barely enough water to stay afloat, and sometimes were paddling through the sand, or using the paddles as poles to push our way through.
We felt a bit like the Lewis and Clark expedition as we pulled, paddled, and dragged our canoes full of gear and water jugs through seemingly uncharted territory, except that our loaded canoes weighed only a few hundred pounds and we were going downriver. Their dugout canoes and gear weighed a few thousand pounds, and they dragged them up the entire Missouri River. We had it easy.
Donny: I was enjoying paddling and dragging with Sholei. Then we stopped and had lunch and we dragged some more. Then Dad switched with Sholei and became my new partner. By the end of the day I got quite worn out. When we got to camp I was relieved that the day was over.
. Kris: We found a nice sandy beach and set up camp, cooked dinner, and roasted marshmallows. Our conversations turned to the endless sea of stars overhead.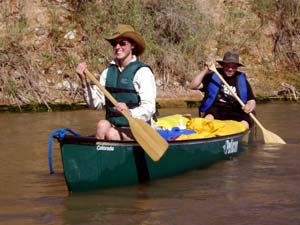 Day Four: Searching for Lake Mead
Kris: I woke up in the middle of the night and listened to the coyotes boasting of their triumphs. I imagined being one myself as I drifted back to sleep. I awoke to find everyone examining lizard and insect tracks in the sand. I remained in the warmth of my sleeping bag and finished my book.
I was pretty happy to start off because today we would reach Lake Mead. I was partnered with Jeff. He seems to be the only one who has seen as many movies as me.
The water rose about two inches overnight, possibly the result of snowmelt far upstream the day before. The extra water enabled us to float more than drag down the river. We reached Lake Mead by the middle of the day, or at least where Lake Mead was supposed to be according to the map. However, as a result of so many dry years in a row, the water level was down by about eighty feet. We could tell we were in the lake by the dried out cattail beds on the banks overhead, but we had to float downstream for another five miles or so before we finally reached the present level of the lake.
Kris: After dragging awhile, we got to float through a fun area with fast waters and lots of obstacles. It was quite a ride and I thought it was much more fun than any theme park ride. Roller coaster rides last only a minute, and you have to pay for them and stand in line for an hour. This was free with no wait and lasted for well over an hour. We stopped at a towering mesa and explored all around it in the shade. Donny and I played with cattail spears.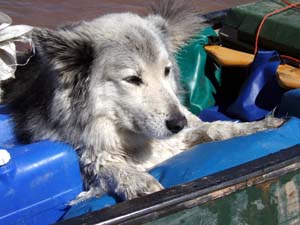 Jeff: I would continually have moments of bliss that I don't normally experience at home. The scenery along the river was so beautiful. It narrowed and quickened at the end and felt like an amusement ride. It was great and challenging floating that last part.
Donny: I was excited about getting near the lake, but also stressed out about all the rapids in the river. At one point I just wanted Aunt Jeanne to steer. After those parts I was fine.
Kris: We started floating the river again, still delighted that we weren't dragging the canoes, when Donny and Jeanne, who had become too relaxed, ran into a branch sticking out over the river. They capsized, filling their canoe with water and unbelievably losing only the trust of the dog, Timber.
We emptied the water out of their canoe, making it drier than everyone else's. We continued on until we could see the actual lake, with only one more obstacle in the way-- a rapid. We banked our canoes and examined it. It didn't look too bad , but there was some concern about the rocks at the bottom, so for the first time this trip, we put on shoes. Jeff and I went first with no problems at all. Then Jeanne and Sholei went and almost turned over, but made it out fine, except for a faster heart beat. I got to go again with Donny while Tom took pictures.
We finally reached the lake and paddled across to a campsite. There was a lot of brown algae floating in the water and it looked as if Las Vegas really did pipe its sewage into the lake. So without any hesitation, Donny and I got in the water and started a war throwing the now labeled "Vegas Poo" at each other. It splattered and stuck to us wherever it hit, and looked disgusting stuck to our clothing. Nobody wanted to be around us, so we took off on an evening hike. We returned to a wonderful dinner and some much needed sleep.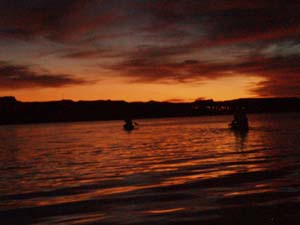 Day 5: Hugging the Shade
Coming from wintry Montana with our pale skins, we used sunscreen religiously. I used more sunscreen on this trip than I usually do in a year. Kris said he used more sunscreen on this trip than he had in his entire life. Still, I felt over-exposed to the sun, as if I had overdosed on vitamin D. Our campsite was near some large boulders, and I hugged the shade as much as I could all day. Jeanne read a book, while Donny worked on homework. Sholei was catching lizards for fun and studied their tracks in the sand.
Kris: I awoke to a lazy day. I started off rock climbing and hiking. I got my first glance at lake Mead in the sun, and it is massive, even if it is 80 feet lower than what the maps says it is. I stood wide-eyed, staring at it for quite some time. I then retired to the shade and started reading a new book. After awhile I became cold, ventured out into the blistering heat and took a nap in the sand. To cool off later on, everyone got in the water and played "monkey in the middle"with a Frisbee we had found.
Refreshed, we hiked away from the lake and sat in the shade of a tamarisk tree, working on various skills: botany, making nets, bowdrill fire-starting, and lizard hunting. I was pretty excited because I saw several plants I'd never seen before like a Mentzelia from the Loasa family and an Eriogonum (desert trumpet) from the Buckwheat family.
We went back to camp and played with a left-handed boomerang; it was a challenge because only one of us was left-handed, but I got it to come back at me one time after doing a big loop. I jumped out of the way when I realized I was going to get hit.
At sunset we paddled across the lake to the Overton Beach campground and looked at palm trees while Tom plugged his camera battery into an outlet to charge.
In the full darkness and somewhat tired, we got back in the canoes and paddled out in search of a campsite. A couple miles away we found a nice sandy beach, quickly got into our sleeping bags, and fell asleep.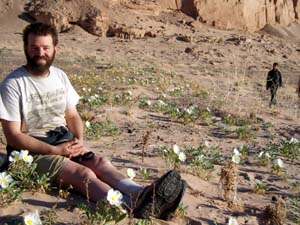 Day Six: Blistering Heat
Kris: We were anxious to get on the water and find some shade before the midday sun, but a field of evening primroses and four o'clocks delayed us. It was an amazing sight, and we spent quite some time smelling the flowers.
Off to the water, Jeanne spotted a school of carp. Jeff tried fishing with his pole, and Donny tried with his bow and arrow. No luck, but Donny got off a close shot. We resumed our search for shade, and I got into a rhythm paddling with Donny singing songs in the back of the canoe.
Side-tracked again, we found a nice outcropping of calcite rocks, and a great echo area. It was worth spending the extra time there in the sun. There isn't much shade around Lake Mead, but we found a hill with tunnels carved into its side. It would make a perfect home, a place unknown by anyone except lizards and burros and a lone cottonwood tree.
Donny: We found some shady caves and cooked lunch and chased lizards. I caught a lizard and accidentally popped another one's tail off. I gave it to Sholei, and she ate it--raw.
The mid-day heat was amazing. I heard later that the temperature was in the mid-nineties. Coming from Montana, I felt like we were in a blast furnace. We greatly enjoyed the opportunity to be warm, but this was excessive!
I enjoyed being back on the water in the evening and in the darkness. Jeff kept a headlamp on, and we had other flashlights handy in case a motor boat sped past us. But we were not totally sure where we were in relation to our destination at Echo Bay, and so we made camp on a black sandy beach, and waited until dawn to get oriented.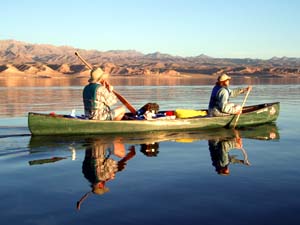 Day Seven: Gourmet Carp
On every day of this too-short trip, I woke up with the dawn and went hiking before sunrise, always excited to see a new place and new wildflowers. I was sorry to be reaching the end of our voyage, yet I could tell this was the last day, since my office-mind clicked on the night before. It always happens that way. On the first day of a trip I forget I have another life and responsibilities back home. On the last night of the trip it all comes flooding back in. Before paddling the last stretch to Echo Bay, I hopped out of the canoe and went for a swim.
Kris: We took in the last scenes of the wild beauty of Lake Mead before we were hit in the face with civilization's ugly head: houseboats, speedboats, jet skis, and a bunch of its slaves, filled with too much alcohol and too little respect for the place and its inhabitants.
We rested in the shade reading our books and petting carp, which were tamed by people feeding them popcorn and potato chips. Jeff and Tom hitchhiked back to Mesquite to get the cars.
Jeff: I don't usually like to hitchhike, and I had my doubts about it. Tom and I waited for two hours in the town of Overton to get a ride to our cars in Mesquite. I was doubtful that we would get a ride, and the sun was hot. Tom was always very positive and sure we would get there, and sure enough the local librarian had her husband drive us the rest of the way. A positive attitude probably does affect one's chances of succeeding at any task. That is something I am learning.
Back at Lake Mead, we packed up our gear, and I netted a carp before we left for home. We drove for about two hours, then stopped at a campground. I didn't know if the carp would even taste good, and about the only fuel we could find to cook it was dead twigs from creosote bushes. The carp was so big that we could hardly cut off its head with our little knives, and my hands were covered in blood.
I felt really self-conscious while washing the blood off my hands in the campground restroom, but nobody walked in. And I thought the carp might taste terrible, but in fact, it was the most delicious meal I have had in a long time. The fishing license cost me $74 and I only caught the one carp, but I decided it was worth it.
The drive home the next day was both quick-paced but long, and fortunately uneventful. We are already plotting our return for another canoe trip on Lake Mead. (And here it is, in video form, 5 1/2 years later:)
Here is a video about another Canoe Trip to Lake Mead, from December 2011.


Go to Participating in Nature: Wilderness Survival and Primitive Living Skills
Return to the Primitive Living Skills Page