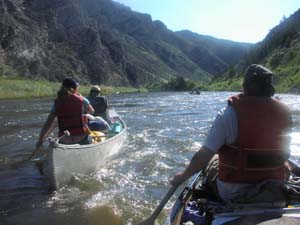 Wilderness Survival
Primitive Living
and Nature Awareness Schools
of North America
The most up-to-date directory on the internet... updated several times every year.

Most of these schools are part-time "hobby" businesses. Year-round schools are listed in capital letters. We are unable to verify the qualifications or competence of the schools listed in this directory, and a listing here does not constitute any kind of endorsement. Please research the schools and services being offered before signing up for classes or other events.

Please Note: We are continuously updating this page, adding or deleting schools and updating contact information. If you find an error please send a note to us through our E-mail Contact Page.
Schools of the United States
Alaska | Arkansas | Arizona | California | Colorado | Connecticut | Delaware | Florida | Georgia | Iowa | Idaho | Illinois | Indiana | Maine | Maryland | Massachusetts | Michigan | Minnesota | Montana | New Hampshire | New Jersey | New Mexico | New York | North Carolina | Ohio | Oregon | South Carolina | Tennessee | Texas | Utah | Vermont | Virginia | Washington | West Virginia | Wisconsin

Primitive Skills Gatherings

Schools of Canada
Alberta | British Columbia | Ontario | | Quebec | New Brunswick
---
Books by Tony Nester

ANCIENT PATHWAYS, LLC
Tony & Holly Nester
PO Box 2068
Flagstaff, AZ 86003-2068
928-526-2552
anester@apathways.com

Books by Cody Lundin

Aboriginal Living Skills School, LLC
Cody Lundin
PO Box 3064
Prescott, AZ 86302
928-713-1651
abodude@codylundin.com

Wilderness Way Adventures, LLC
Custom training throughout North America
Mike Lowe
970-560-0509
Ravens-Way Wild Journeys, LLC
Vince & Claudia Pinto
1200 W. Mariposa Road, No. 19
Nogales, AZ 85621
520-425-6425
nature-journeys@hotmail.com
Book by Peter Bigfoot

Reevis Mountain School
Peter Bigfoot
HC 02, Box 1534
Roosevelt, AZ 85545
520-467-2675
Book by Randy Kinkade

Willow River Wilderness School
Randy Kinkade
520-360-6868
randy@willowriverwilderness.com
Book by Tamara Wilder

Paleotechnics
Tamara Wilder
PO Box 876
Boonville, CA 95415
707-793-2287
ts@paleotechnics.com
Books by Christopher Nyerges

School of Self Reliance
Christopher Nyerges
PO Box 41834
Eagle Rock, CA 90041
323-255-9502
Oldways Workshops
Norm Kidder
Sunol Regional Wilderness
PO Box 82
Sunol, CA 94536
925-862-2600
svisit@ebparks.org

HEADWATERS OUTDOOR SCHOOL
Tim Corcoran
PO Box 1698
Santa Cruz, CA 95061-1690
831-423-3830
info@hwos.com

Back 2 Earth School
Geoff & Alissa Barnes and Joe Beardsley
PO Box 585
Angwin, CA 94508
California Survival School
(Locations across the state)
Dan Baird
211 Hope St. #390273
Mountain View, CA 94041
877-256-3214
info@casurvival.com
Adventure Out
Cliff Hodges
PO Box 7040
Santa Cruz, CA 95061
800-509-3954
cliff@adventureout.com
TrackersBAY
340A Cypress Drive
Fairfax, CA 94930
415-717-3919
Thomas Coyne Survival School
Thomas Coyne
805-503-8861
stscgonative@gmail.com
Bush Survival Training
Joel van der Loon
3960 West Point Loma Blvd, Suite H 141
San Diego, CA 92110
619-636-0394

Gibbons' Woodfolks
John Gibbons
3 Northway Court
Plattsburgh, NY 12901
518-563-6780
Primitive Pursuits
Tim Drake
c/o Cooperative Extension
Association of Tompkins County
615 Willow Ave.
Ithaca, NY 14850
607-272-2292
primitivepursuits@hotmail.com

HAWK CIRCLE
Ricardo Sierra
PO Box 506
Cherry Valley, NY 13320
607-264-3396
Ricardo@hawkcircle.com

Survival Resources
John D. McCann
PO Box 307
Hyde Park, NY 12538
845-471-2434

Check this out!

Art of Nothing Wilderness Survival Video Series
Video with Steve Brill

Wildman Steve Brill
320 Palmer Terrace, 2A
Mamaroneck, NY 10543
914-835-2153
wildmansteve@bigfoot.com
Wilderness Way
Michael Head
744 Glenmary Drive
Owego, NY 13827
607-687-9186
caretaker@wildernesswayschool.com
Check this out!

Art of Nothing Wilderness Survival Video Series
Check this out!

Participating in Nature
Flying Deer Nature Center
5 Abode Road
New Lebanon, NY 12125
518-794-6687
info@flyingdeernaturecenter.org
Wild Earth
David Brownstein
29 S Chestnut St #201
New Paltz, NY 12561
845-256-9830

Woodland Ways
Mike Pewtherer
PO Box 228
Philmont, NY 12565
518-542-9081
woodlandways@woodlandways.com
Book by John Kallas

WILD FOOD ADVENTURES
John Kallas, Ph.D
422 SE 49th Ave
Portland OR 97215
503-775-3828
mail@wildfoodadventures.com
Check this out!

Art of Nothing Wilderness Survival Video Series
Check this out!

Art of Nothing Wilderness Survival Video Series
Lifesong Wilderness Adventures
Mark Wienert Jr.
73569 Highway 101
North Bend, OR 97459
530-859-0539

TrackersPDX
1424 SE 76th Ave.
Portland, OR 97215
503-253-5898
TrackersBEND
Bend, Oregon
503-253-5898
Mountain Shepherd
Wilderness Survival School - West
Scott Smith
57 Hemlock Ridge Lane.
Catawba, VA 24070
434-238-4094
info@mountainshepherd.com
Coyote Trails School of Nature
PO Box 3537
Ashland, OR 97520
541-482-0513
Ancient Arts Center
Margaret Mathewson
16140 Lobster Valley Road
Alsea, OR 97324
541-486-4311
margaret@peak.org
ReWild Eugene
Matt & Anna Bradley & Rees Maxwell
84779 McBeth Road
Eugene, OR 97405
541-517-9098
rewild.eugene@gmail.com
Whole Earth Nature School
Anna & Matt Bradley
PO Box 5223
Eugene, OR 97405
541-937-5437

Nighthawk Naturalist School, LLC
Chelsea Ernst & Tyler Doyle
Bend, OR
901-486-4734
Chelsea@nighthawknaturalistschool.com
RewildPortland
PO Box 6582
Portland, OR 97228
503-863-8462
peter@rewildportland.com
Whole Earth Nature School
PO Box 5223
Eugene, OR 97405
541-937-5437
W.A.S. Resources

WILDERNESS AWARENESS SCHOOL
PO Box 5000, PMB 137
Duvall, WA 98019
425-788-1301

Living Wild
Lynx Vilden
EARTHWALK NORTHWEST, INC.
Frank & Karen Sherwood
PO Box 461
Issaquah, WA 98027
425-746-7267
SURVIVE & THRIVE
Dr. Nicole Apelian
204 S. Fork Road
Raymond, WA 98577
360-875-7995
nicole.apelian@gmail.com
Bridges to the Past
Patrick & Kamber Farneman
PO Box 14
Valley, WA 99181
WOLF CAMP
Chris Chisholm
1313 2nd Street, Suite A
Snohomish, WA 98290
425-248-0253
ALDERLEAF WILDERNESS COLLEGE
Jason Knight
18715 299th Ave SE
Monroe, WA 98272
206-369-8458
info@wildernesscollege.com
Bushcraft Northwest
Mike Lummio
PO Box 1274
Goldendale, WA 98620
360-606-1036
info@bushcraftnorthwest.com
Raven's Roots Naturalist School
Bellingham, WA 98225
360-305-3514
info@ravensroots.com
Cedar Root Folk School
Scott Brinton
PO Box 135
Nordland WA 98358
cedarrootschool@gmail.com
---
CANADA
Also see our directory of
Primitive Living & Nature Awareness Schools of Europe, Australia & New Zealand
---


"I thought, this could be a winner. And I got a large piece of this and whittled the baseboard as you see with the usual notch and everything. And much to my delight I started getting loads of smoke, but I was just so exhausted after each operation I was almost ready for the hospital... until I found this wonderful book here called Primitive Living Self-Sufficiency, and Survival Skills by Thomas J. Elpel."